Under Armour Elite 24
August 19, 2017
Brooklyn, New York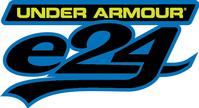 The nation's top high school basketball players assemble to make a name for themselves in New York City—the Mecca of basketball. Under Armour Grassroots basketball selects the most talented players and finds the best scenery imaginable for what is a once in a lifetime event.
"The Elite 24 is a platform created to celebrate the heart and soul of basketball. It's a showcase of the game's rising talent, and we play outside to enhance that gritty, freelancing style that players and fans both love to be part of," said Kris Stone, Elite 24 Founder and Director of Sports Marketing, Basketball, Under Armour. "This game brings together the next generation of future NBA stars, giving them the opportunity to battle it out for bragging rights and show the nation that they have what it takes to be great."
Since its founding, 40 players from the game went on to be selected in the first round of the NBA Draft, 24 were selected in the Lottery, and three went on to be drafted number one overall. The event also features a Dunk contest, Skills and Three-Point contest that will take place on Friday night. Friday night action is carried live on ESPN3 with a reair on ESPNU. The game also introduced an UA NEXT "Rising Stars" game to the weekend showcase where the best middle school-aged basketball players square off.
Official Website